This is a nine-song recording of me performing songs by members of The Highwaymen. These songs aren't necessarily their most famous songs or their "greatest" songs. They are just a collection of songs that I love playing. The performances from the studio recording are very much inline with what the songs like when I'm performing them live. 
A recent performance from the Ames Free Library in Easton, Massachusetts that was recorded by Easton Community Access Television.
Songs and Stories
Songs and Stories is a music series that I've performing throughout New England in 2021. While all my life, I've performed my own original songs, I've also been a huge fan of music and been an avid reader and listener of so many of my musical heroes. Songs and Stories is a 60 or 90 minute performance that blends songs by the artists and stories about their upbringing and careers. For the summer/fall of 2021, I'll be focusing on the country supergroup The Highwaymen, which consisted of Johnny Cash, Willie Nelson, Waylon Jennings and Kris Kristofferson. I'll talk about the various collaborations those artists had with each other earlier in their careers, talk about the forming of The Highwaymen and perform a bunch of their most famous songs. If you'd be interested in booking me to perform, please call/text 781-953-6177 or email me at mattyorkpembroke@gmail.com.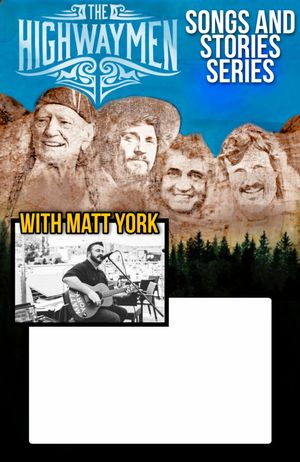 House Concerts and Cover Gigs 
While I normally just play original songs, this year, I'll be doing some cover gigs. I've got a ton of cover songs that I love and am looking forward to playing them. For more info, feel free to email me at mattyorkpembroke@gmail.com or call/text at 781-953-6177. I'll again be performing house concerts throughout New England. If you're interested in hosting one in the summer of 2021, please reach out to me and we can try and make it work. With the amount of clubs and small theaters that have already announced they are closing permanently, there's going to be a real need for concerts in places other than those places. House concerts are a great way to hear live music and I always enjoy playing them.  
Guitar Lessons:
I began playing guitar when I was ten years old and have had a guitar in my hand ever since. Through the years, I've also taught guitar and have loved doing so. If you are interested in lessons, please feel free to email me at mattyorkpembroke@gmail.com or call/text me 781-953-6177. I'll be offering in-person lessons for people in the Pembroke area and also Skype/Zoom calls. If you are an adult that owns a guitar and has always wanted to learn a few chords or more, I'd be happy to help. If you have a child that's interested in playing electric guitar, acoustic guitar or bass guitar, I'd be happy to get them started. In my experience, each student is different. Some of them want to just learn songs they hear on the radio, some want to become technical players and work from a guitar lesson book. Generally, I try to do a blend of both, but am happy to work with each student to find what's right for them. If there's one thing the pandemic has shown, it's that having a hobby is a really beneficial thing.