Hello all,
I've got a busy March. On March 14th, I'll be performing at the Newport Playhouse in Newport, R.I. as part of a benefit for the tornado victims in Nashville.
Doors open at 6pm, Music at 7, $10 cover and a great line-up.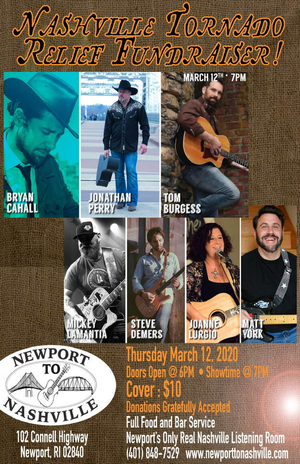 I'll be returning to Austin, Texas for SXSW. I'll be playing three shows in Austin (more info on those on the "Shows" page) on March 18th and 19th. I then head east to beautiful Baton Rouge, Louisiana. I'll be returning to the 3rd Street Songwriters Festival. Still working out the details of when/where I'll be performing in both Austin and Baton Rouge, so be sure to check back in the coming days for more info.
At the end of the month, I'll be performing at The Knickerbocker Tap Room in Westerly, R.I. on Sunday, March 29th. For more info, click here. 
If you head over to the videos page, you can watch a couple of recent performances I did at Country 102.5 FM in Boston. 
Thanks for stopping by.