Hope you are enjoying the last couple of weeks of summer. I've got an update with some good stuff that's coming up in September and beyond. It's a little longer than usual because, well, I've got a lot going on in the months ahead. I want to thank everyone that came out to help sell out the Bull Run in Shirley earlier this month. That was a beautiful spot for a concert and I hope to get back there at some point over the winter. If you'd like to just know when/where I'll be playing, you can visit
Nashville in November: Tickets go on sale August 30th for two nights at City Winery Nashville. I'll be there November 5th and 6th. Night one, I'll be performing the songs of Johnny Cash and the following night, I'll be doing the songs of Willie Nelson. Click on the images below for ticket info.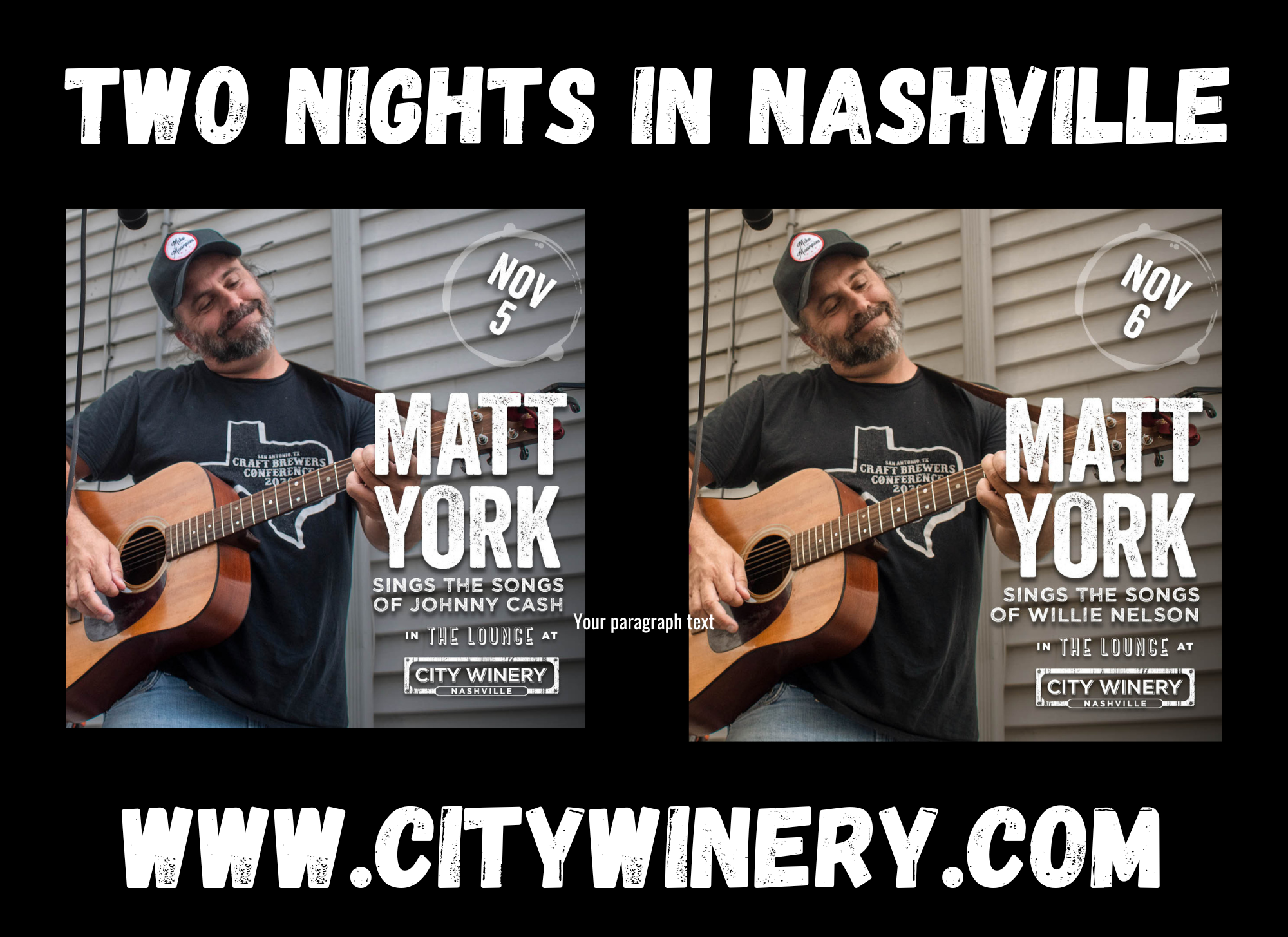 South Shore MA friends. If you like to eat great food in the morning and/or early afternoon AND listen to classic country music while you do so, well do I have just the thing for you! I'll be performing a Sunday Brunch twice in Hanson at my awesome friend Lori Cook's restaurant
The Olde Hitching Post
in September. I'll be playing old-time country and honky-tonk music from 10 a.m - 1 p.m. on September 10th and September 24th. For more info, please visit 
https://oldehp.com/
. I promise to play "Sunday Morning Coming Down" and "Bloody Mary Morning" each gig ; )
This Sunday (August 27th) I'll be bringing the full band to
The Porch Southern Fare and Juke Joint
in Medford. We'll be opening for Texas country artist Summer Dean (who is the real deal). It's an early show that begins at 6pm. For advanced tickets, please visit 
this link
On Saturday, September 9th, the band will be performing at the Jamaica Plain Music Festival at Jamaica Pond. This is one of the great annual music festivals around and is put on by my lifelong friend Rick Berlin and others. IT'S FREE! I've not performed there previously, but have attended a few of them and it's a great time. For more info, visit 
http://www.
jpmusicfestival.com/
New Video Podcast on YouTube: A person emailed me and said that I should include a video periodically of me talking about and playing a song, similar to the way I do at Cash/Highwaymen concerts. Thus, I made a video of a song called "Small-Time Laboring Man" by George Jones. It came out in 1968 and barely cracked the Top 30. Late in 1968, Rolling Stone asked Bob Dylan what his favorite song of the year was, and he mentioned Jones's song. Hope you enjoy my rendition of it. It's an incredible song. If you like it and would like to hear more, after watching the video, please hit "
subscribe
" and you'll get a notification when I add a new video each month. If you have a song you'd like me to perform, shoot me an email.
Click here to watch the first video
.
HO-HO-HOLIDAY CONCERTS: I'm doing a boatload of Holiday concerts during the, you guessed it, holiday season. I'll be doing a number of "Holiday Songs and Stories", where I talk about and perform some of my favorite holiday songs. I'll also be performing at some private holiday parties etc. If you're possibly interested in booking me, please feel free to email me at
mattyorkpembroke@gmail.com
.
Last thing then I'm done. A lot of folks ask me how they can help independent artists like me. The short answer is follow me on
Facebook
or
Instagram
, subscribe to
my YouTube channel
or share a video I made with a friend/family member. Take a look at my gig schedule and where I'm playing in the months ahead, attend a concert or suggest one to a friend. All those things help a lot! September gigs up now at
www.mattyorksongsandstories.
com
. 
www.mattyorksongsandstories.com