Nice preview of my March 10th concert in Plainville in the Sun Chronicle. 
https://www.thesunchronicle.com/communities/along-the-way-highwaymen-tribute-in-plainville/article_ad764767-6d9b-5771-b9a8-8e422f959d55.html
Hello folks,
I have several Songs and Stories concerts coming up. Below is a list. If there are any questions, please just let me know. I've started doing a lot of Johnny Cash concerts and they've been going really well. 
Here's a video of me doing Johnny Cash's "Guess Things Happen That Way". https://youtu.be/MVSy9YlyThA
Upcoming Concerts:
March 10th (Fri.) Grafton Library 7pm (Johnny Cash)
March 11th (Sat.) Plainville Library 1pm (Highwaymen)
March 18th (Sat.) West Springfield (Johnny Cash)
March 23rd (Thurs.) Natick COA 2pm (Johnny Cash)
March 27th (Monday) Agawam Library 6:30 (Johnny Cash)
April 2nd (Sun.) Groton Library 2:30 (Highwaymen)
April 5th (Wed) Carver Library 1pm (Johnny Cash)
April 6th Thurs.) Avon COA (Johnny Cash)
April 7th (Fri.) Wellfleet Library 5pm (Highwaymen)
April 21st (Friday):  I'll be traveling to Music City to perform at one of Nashville's premiere concert venues, The City Winery. I'll be doing the songs of The Highwaymen. Advance tickets are only $15 and can be purchased at this link. I'm really excited to have the opportunity to perform here. If you're in the Nashville area I hope you can join us. If you know some folks that live down there that might be interested, please let them know.
April 29th (Sat.): I'll be doing a tribute to Willie Nelson in beautiful Newport, Rhode Island. April 29th is Willie's 90th birthday. I'll be performing at the awesome Newport Playhouse and Cabaret, doing a full set of Willie songs and Willie stories. He's my all-time favorite and I'll really excited about this one. Tickets can be purchased in advance for $20 at this link.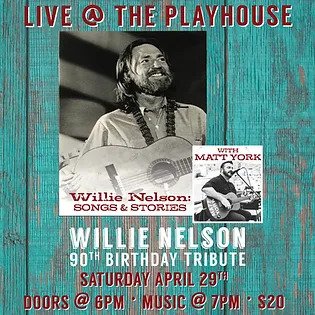 Thanks for your support,
Matt York