Hi folks,  
I had a quiet January playing only a handful of gigs. Things ramp up a bit in Feb/March and then it's back to full speed.   
A few highlights I wanted to share: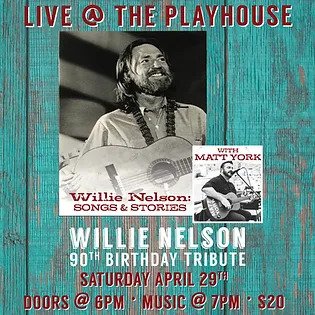 Saturday, April 29th will be Willie Nelson's 90th birthday. I'll be doing a Songs and Stories on just Willie at the Newport Playhouse in beautiful Newport, Rhode Island that evening. The Playhouse is a great venue to see a concert and I'm looking forward to it. Advanced tickets can be purchased here https://ci.ovationtix.com/34452/production/1151851?performanceId=11236044
Also in April, I'll be returning to Nashville to perform at City Winery there doing the Highwaymen. Advanced tickets for that can be found at https://citywinery.com/nashville. While I'm down there, I'll also be performing on NBC's Today in Nashville and also perform in Knoxville at the Blue Plate Special radio program.   
Here's a version of Johnny Cash's great song "Unchained" Please consider subscribing to my YouTube channel. I plan on uploading some videos regularly while I have some downtime over the winter.   
Month of February is the following:  
Upcoming Gigs:  
February 10th (Fri.) Fellowship Hall Westford 12pm - Johnny Cash - Songs & Stories  
February 11th (Sat.) Framingham Library (Costin Room) 1pm - The Highwaymen - Songs & Stories  
February 12th (Sun.) Chesterfield Community Center 2pm - Johnny Cash - Songs & Stories  
February 18th (Sat.) Aeronaut Canning Everett 8pm - The Highwaymen - Songs & Stories  
Feb. 25th (Sat.) Franklin Library time 2pm - The Highwaymen - Songs & Stories  
February 28th (Tues.) Lynn Senior Center 10:30 am - Johnny Cash - Songs & Stories  
Thanks,  
Matt York