Hello folks - First off, if you're looking for info on the Songs & Stories of The Highwaymen or Johnny Cash, the best place to find that info is www.mattyorksongsandstories.com. 
A few updates to report. 
Had a busy October that took me to some beautiful spots across Massachusetts. I also ventured down south to Tennessee and performed in Nashville, Maryville and Knoxville. I really enjoyed my time down there. We had over 150 people show up at an indoor concert at the library in Maryville, which was amazing. I also had the opportunity to perform on the WDVX Blue Plate Radio Special in Knoxville, which has been hosting live country music artists for twenty-five years. Many of my country music heroes have performed there at one point or another, so it was a fun experience. Earlier in October, I traveled to Hampden, MA and performed for a great audience. The librarian in that town was kind enough to choose my book as the Book of the Month for their book club. I got to meet some people that read the book and they even auctioned off a basket of Highwaymen-related gifts. It was awesome. 
My schedule will be slowing down a bit in November/December, but I have some concerts I'm really looking forward to coming up. 
City Winery is one of the premiere live music venues in Boston (about a five minute walk from the North End). They also have locations in a few other cities across the U.S.  On Sunday, November 20th, I'll be performing at the Boston location for a late matinee concert at 5pm. I'm really trying to get folks out to this one, so if you're able to come, please do so. Tickets are only $15 and can be purchased at this link
I recently got word that I was nominated for a Boston Music Award as "Best Country Artist". That's pretty cool. I've been nominated and also won some different music awards through the years and it's a weird thing to be honest. I think with art, you like what you like. It's not sports where there's often an MVP. Nonetheless, I'm appreciative for being nominated and if you want to vote for me, you can do so at https://bostonmusicawards.com/vote/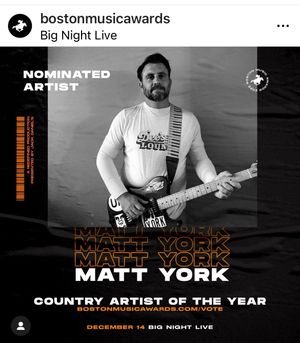 This video (click on image below) was shot during a live radio performance I did at WDVX's Blue Plate Special in Knoxville, Tennessee last week. 
I'll be traveling to NYC to perform at a cabaret in Times Square called Green Room 42. I haven't performed in NYC since the pandemic and this will be my first time doing The Highwaymen thing there. If you know someone that might be interested in attending, it's taking place on Friday, January 13th, 2023 and more info can be found at https://thegreenroom42.venuetix.com/