Hi folks, 
I'm really excited to bring The Highwaymen - Songs & Stories to Nashville. I'll be performing it on October 24th at 7pm at Vinyl Tap (which is a combination of a record store, bar and live music venue...the world needs more places like Vinyl Tap). If you know anyone in the Nashville area that might be interested, please let them know.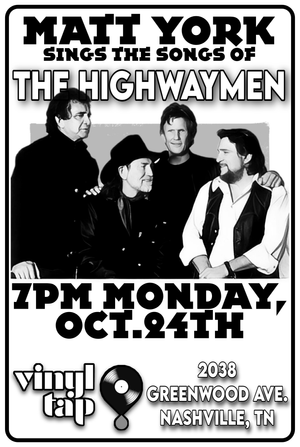 In November, I'm bringing this to City Winery in downtown Boston. It's a five-minute walk to the North End, it's a Sunday afternoon matinee that begins at 5pm. I'm working really hard to get folks to attend this one. It'll be a different thing than what you've seen in the past. I'll be having some special guests perform some songs with me. Tickets are only $15 in advance and can be purchased at this link.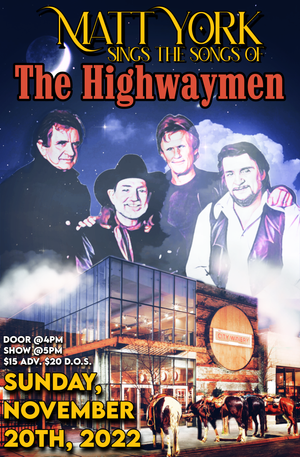 Here's a video of me performing the great Willie Nelson song "Sad Songs & Waltzes". I'm going to try and record a different song each month if you have a song you'd like to hear, let me know. Also, be sure to click subscribe on my YouTube channel to see future videos. Click below
The Worcester Telegram had a really great write-up of my new album Gently Used. To read the article, click here. 
In September, I performed a song by Luke Bell called "Sometimes" at some gigs and talked about him passing away recently. He was only 32 years old and was wildly talented. I've received some emails from people asking me about him/the song. This is him performing it if you're interested in watching click below
Gigs: 
October 1st (Sat.) Oktober Fest in Douglas MA 9:00 to 10:30 (morning) 
October 6th (Thurs) at Lawrence Library 6:30 pm 
October 8th (Saturday) Norfolk Library 1pm 
October 9th (Sunday) Cider Orchard New Salem, MA 2-4 
October 15th (Sat) at Hampden Library at 12pm 
October 16th Gardner Ale House 5pm 
October 20th (Thurs) The Porch in Medford, MA 
October 24th (Monday) Vinyl Tap Nashville 7pm 
October 26th Blount County Library, Knoxville, TN 7pm 
October 27th Blue Plate Special Radio Show 12pm CST Knoxville, TN
Lastly..... 
If you'd like to purchase a copy of my book about The Highwaymen, you can do so at this link. 
If you're on Facebook, please consider following me at https://www.facebook.com/songsandstoriesthehighwaymen 
Thanks for your support and thanks for reading! 
Matt York 
www.mattyorkmusic.com 
www.mattyorksongsandstories.com